In any conversation on Climate Change you will eventually hear the phrase "They will think of something" as some kind of answer to a particular problem. The problem as I see it we often think of something but the thinkers don't control the money and those that control the money think only of their selves.
In the past few years fact upon fact has been presented to the people that we are screwing the planet up and apparently are willing to do nothing about solving the problem. The problems are so immense a starting point is hard to find. So let's just pick one problem and concentrate on what we are within our power to fix.
The Ocean is a good choice where the problems are easiest to see (at least some of them) . Up and down the shores of the Pacific die offs of all kinds of critters from shell fish to mammals are showing up our beaches. Species like sardines, anchovies, shrimp, oysters, crabs, seals, sea lions, tuna, sharks, whales are showing up dead.
In yesterdays post I showed you this graph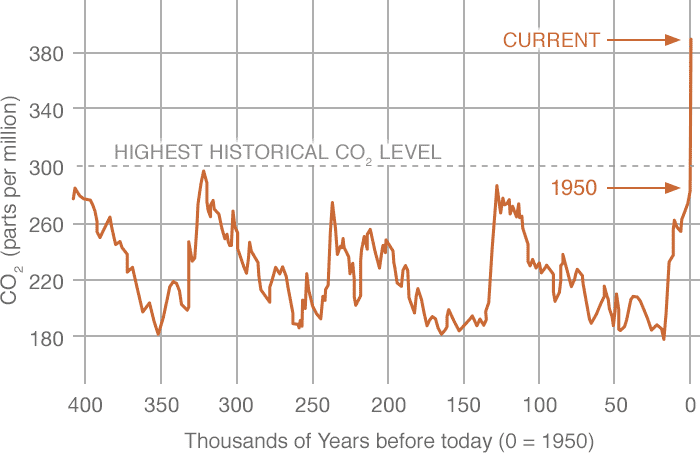 Now look at the surge upward since 1950, over 100ppm more today than just 65 years ago. I think few realize just what the effects of that huge increase has on the oceans. It raises the PH or the acidity of the ocean to levels that start to have detrimental effects particularly on hard bodied species like oysters and crabs. These effects can be seen by the naked eye but somethings we see only the after affect and scratch our heads as to why. Sardines for instance have all but disappeared with no absolute cause yet figured out.
Adding to water chemistry problems the ocean levels are rising along with the temperatures. On top of that usually warm water on our pacific coast has caused die offs along our shores. Fresh water pouring into the ocean from ice melting at our poles and glaciers which changes water chemistry in our most fragile northern waters.
The Pope's letter on the climate drew fiery phrases from the neocon non believers aided by the climate deniers club . Most of what the Pope pointed out were clearly common sense , but that's what must be missing from a lot of the world, no common sense.
Another post by my favorite
Archdruid
triggered this piece and he covers a lot more than just climate change. He touched on one of my favorite topics ,Education. A quote from his article follows:
because recent "reforms" in the American
public school system have replaced learning with rote memorization of disconnected factoids that are then regurgitated for multiple choice tests.
Common Core education is just that memorizing a lists and then plugging the right answer to the test question that was used to give you the facts. Many states are bailing out of this Arnie Duncan nightmare that has set education back decades.
The Druid comments on the bad decisions being made by our leaders I think points to our leaders not being able to think things thru to a logical conclusion. Depending on propaganda to cover their tracks. An example We attacked ISIS a force of 5000 we said, we then killed 10000 of them and now there are 20000 left. Math equal to their thinking ability.
Our latest Game of Thrones event , Ukraine where we led and funded a coup to cause Russia to do something stupid so we could go to war. Once again flawed logic led the day causing all of Asia to band together economically and military which has made our Tip to Asia undo able.
Once again our leaders were playing checker while Russia and China were playing chess.
You know we have messed up when our leading military minds to step right up and start talking a first strike nuclear event. I would suggest they take a good long look at the military capabilities of China and Russia. We are looking arrogant and stupid and most of the world sees it.